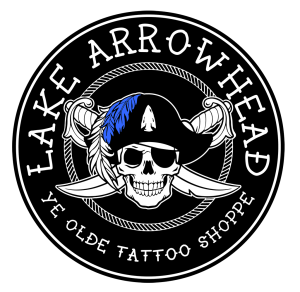 What's the cost of getting a tattoo?
We have a shop hourly price of $160.00 with a tattoo minimum of 80.00, although many times we attach a fixed rate to a tattoo.
Tattoo cover-ups rate 200.00 an hour. There is a lot more behind the scenes work that goes into a good cover up. Please talk to Captain Dave about this special tattoo service.
We also offer an exclusive full 7-hour shift rate of $900.00 for larger projects to help you complete that back piece or sleeve tattoo. This is a savings of 220.00 to help those committed to large projects.
 First, call us and we will make you an appointment if it is an easy straight forward tattoo. If the tattoo is more complicated and we need to draw for you, then we will give you an email to send any artwork and any ideas you might have so we can design your new tattoo :). We will then get back to you about your appointment.
You are also welcome to stop in and discuss your project in person. (Always the best course) At that time we will enter your information into our system and we will require an $80.00 deposit to get things started on a small tattoo and a $300 deposit on day rates. The deposit goes towards the final cost of your tattoo and is not an additional fee.
We get very busy and need to take deposits to secure your appointment.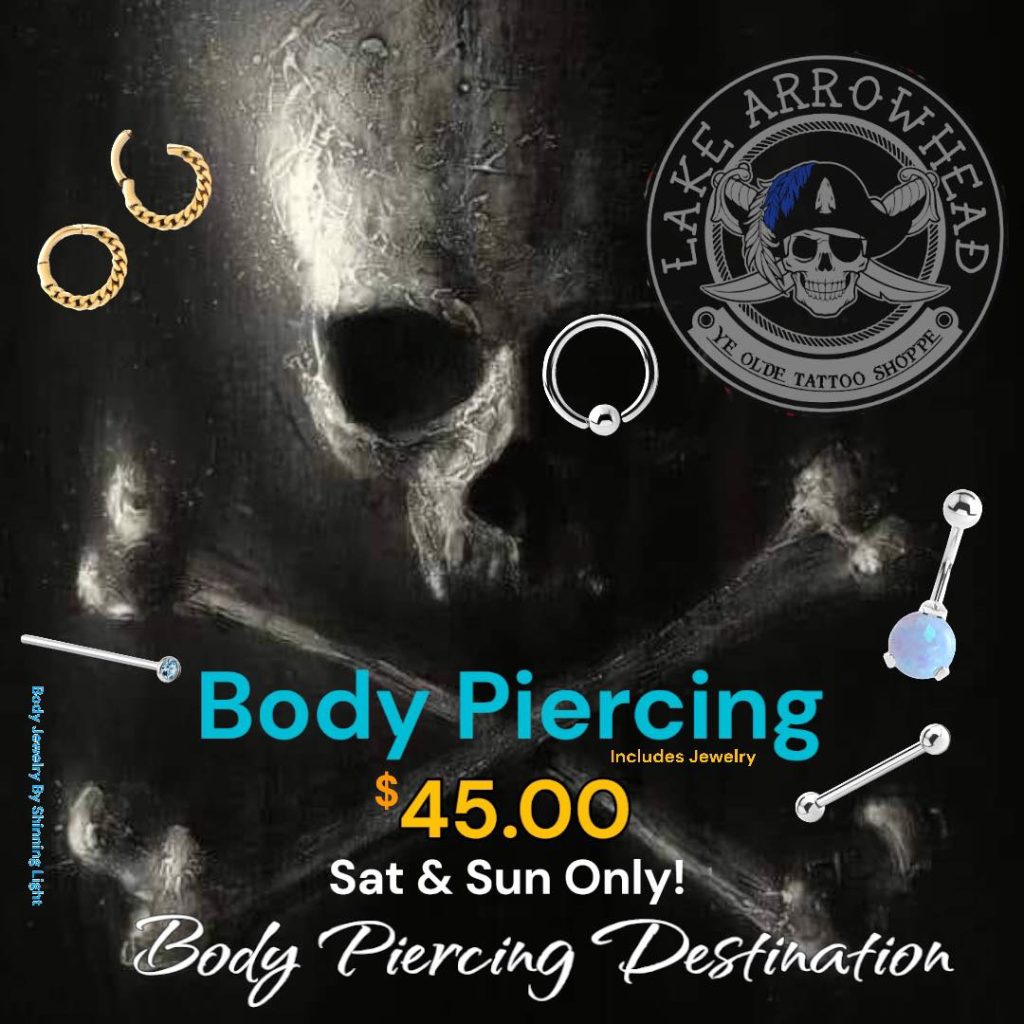 Body Piercing Prices :
Piercing Prices vary depending on placement and jewelry choice.
Basic earlobe- 25.00 per piercing plus the cost of jewelry.
Basic ear cartilage- 25.00 per piercing plus cost of jewelry.
The standard body piercing (non-ears)30.00 plus the cost of Jewelry.
Specialty body piercings(genitals etc) between 35.00 – 55.-00 plus jewelry
We have an extensive jewelry selection beginning at 15.00 for basic captive bead rings and going up in price based on size, style, and material.
Cancellations And Rescheduling
Please give us a 48-hour notice to move appointments. We take the deposit to show you are serious and save you a spot. Deposit is to assure your appointment is guaranteed and cover time and drawing costs. TATTOO DEPOSITS ARE NONE REFUNDABLE. We draw and spend time designing your tattoo and the deposit goes to that time spent preparing. Thank you for understanding. Please consider this when leaving a deposit. If you need to reschedule your appointment, that is no problem.
Coming From Out Of Town?
For out-of-town appointments, we will require the 100.00 deposit for each appointment by PayPal.
Please call our shop
" Good Tattoos Are Not Cheap and Cheap Tattoos Are Not Good! "
"Our Piercing Skills And Body Jewelry Quality Can't Be Beat!"
Gift Certificates Available Now
Walk-Ins Are Welcome.
If you walk-in and we have time to do the tattoo we are more than happy to help. If we're busy, we can talk about your project and make you an appointment. If you are making an appointment from out of town, we can do it by email for you but calling us is always the fastest and best way to make an appointment.