Above And Beyond! New Safety First - COVID 19  Protocols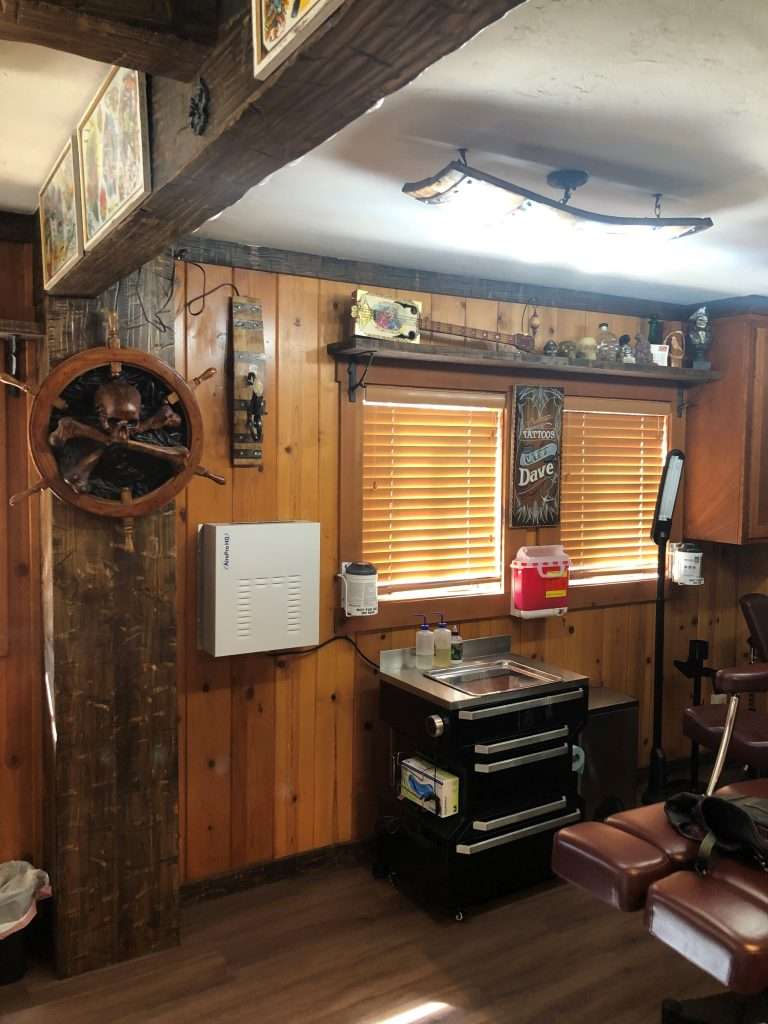 We have added AiroCide UV germ-killing air purifiers to our shop's air conditioning process to help clean the air and kill germs circulating through the units. These-(State Of The Art Industrial Ultra Violet Germicidal Irradiation Filters Developed By NASA!) UV filters kill all airborne germs, mold, fungus, and viruses such as Coronavirus passing through the filter.
This filtration system is a state of the art technology developed by NASA to kill airborne viruses and we've brought it to Studio City Tattoo and Lake Arrowhead Tattoo for your Safety!
The technology is based on revolutionary research from NASA, University of Wisconsin (UW), and Wisconsin Center for Space Automation and Robotics (WCSAR), developed originally for the NASA space program. The AiroCide commercial air purification systems use patented technology to kill more than 99.99% of the airborne pathogens that pass through its processor. Airocide is the only air treatment system that after killing the microorganisms it comes in contact with completely mineralizes (destroys) them, converting them to carbon dioxide and water vapor.

The air purifying technology in Airocide was proven to kill 99.999987% of Bacillus thuringiensis, a close cousin to the anthrax bacteria, in a single pass through its reactor. So Coronavirus is also dead!
Among other bacteria, fungi, and viruses, photocatalytic oxidation technology kills airborne Lactobacillus, which can be a problem in wine, beer, and other beverage and food processing facilities.
Our New  Safety First COVID- 19 Protocol When We Open
In order to provide the safest possible tattoo experience for both our clients and artists, we have implemented several new procedures.
1. We will be strictly appointment only and have 1 person per practitioner with plenty of distance between stations.
Unfortunately, this means you may not bring anyone with you to your appointment. We may still be able to accommodate
same-day appointments depending on our schedule. Please just give us a call first.
2. We will require everyone to wear a mask at all times while in the studio. We encourage everyone to consider purchasing
a reusable/washable mask. As for piercing clientele, this means we will not be piercing the nose or the mouth area. You will need to keep your mask on. If you do not have a mask we will provide you one for free.
3. Immediately upon entering you must use the provided hand sanitizer. Also, we ask that you sanitize your phone or
other items you will be touching frequently during your visit. Please leave any nonessential items at home or in your car. We will then take your temperature with our touchless thermometer upon entering the shop.
4. We have gone digital with our waivers. Now you will fill out your consent and disclosure forms on an iPad that will
be thoroughly disinfected after each use or your own iPhone if you have one.
5. We have increased our already stringent cleaning protocols. We continue to use hospital-grade disinfectants and
cleaners and disinfect common area surfaces and door handles several times an hour.
6. We also recently installed an expensive NASA approved AiroCide-Air Purification Technology System
in our shop that kills airborne viruses. We care for your safety. See how it works!
7. By now this should go without saying but, if you're feeling even the slightest bit unwell please call us to reschedule.
We will be happy to accommodate you. We ask the same of all the artists and staff at Studio City Tattoo and your patience is appreciated.
Thank you for your support, and understanding.  We look forward to making beautiful tattoos with you!
Staff at Studio City Tattoo
Here are the sanitation protocols that tattoo parlors are required to follow.
FOR CUSTOMERS
▪ All waiting areas are to remain closed. Customers must wait in their vehicles until their appointment time and they are called for screening before entering.
▪ Customers must sanitize their hands when entering and exiting.
▪ All customers must be screened upon entry.= Questions on health and taking of temperature.
▪ Customers must wear a face covering, such as a cloth mask, while inside at all times, this includes during the tattoo procedure.
FOR EMPLOYEES:
▪ All employees will be screened daily at the beginning of their shifts, including asking whether they have been in contact with a confirmed case of COVID-19 in the past 14 days and have had a fever in the last 48 hours. They will have their temperature taken and asked to go home if they have a fever.
▪ All employees must be provided training on how to limit the spread of COVID-19.
▪ Face coverings must be provided to all employees who come in direct contact with customers.
▪ Employees are encouraged to wear face shields while tattooing a customer.
▪ Employees must also wear disposable gloves and change them between customers, as well as wash their hands between every customer.
FOR BUSINESSES:
▪ The tattoo parlor must be deep-cleaned, disinfected, and sanitized top to bottom. After opening, tattoo parlors must be deep-cleaned daily.
▪ Parlors are expected to take every step necessary to implement the regulations, orders, and guidance from the CALIFORNIA State Department of Health and CDC to prevent the spread of COVID-19.
▪ Services are allowed only by appointment. No walk-in customers at this time.
▪ Minimizing person-to-person contact through technology, like mobile or online reservations and contactless payment, is encouraged.
▪ Parlors must post signage at each entrance stating no customer with a fever or COVID-19 symptoms are allowed in.
▪ Only one customer per employee is allowed in the tattoo parlor at any given time.
▪ Tattooing and piercing around the mouth and nose are prohibited.
▪ Chairs are to be rearranged to ensure at least 6 feet between each customer.
▪ Chair and workstations must be sanitized after each use by a customer.
▪ All high-touch areas must be sanitized at least once every two hours.
▪ Hand sanitizers must be placed at entrances.