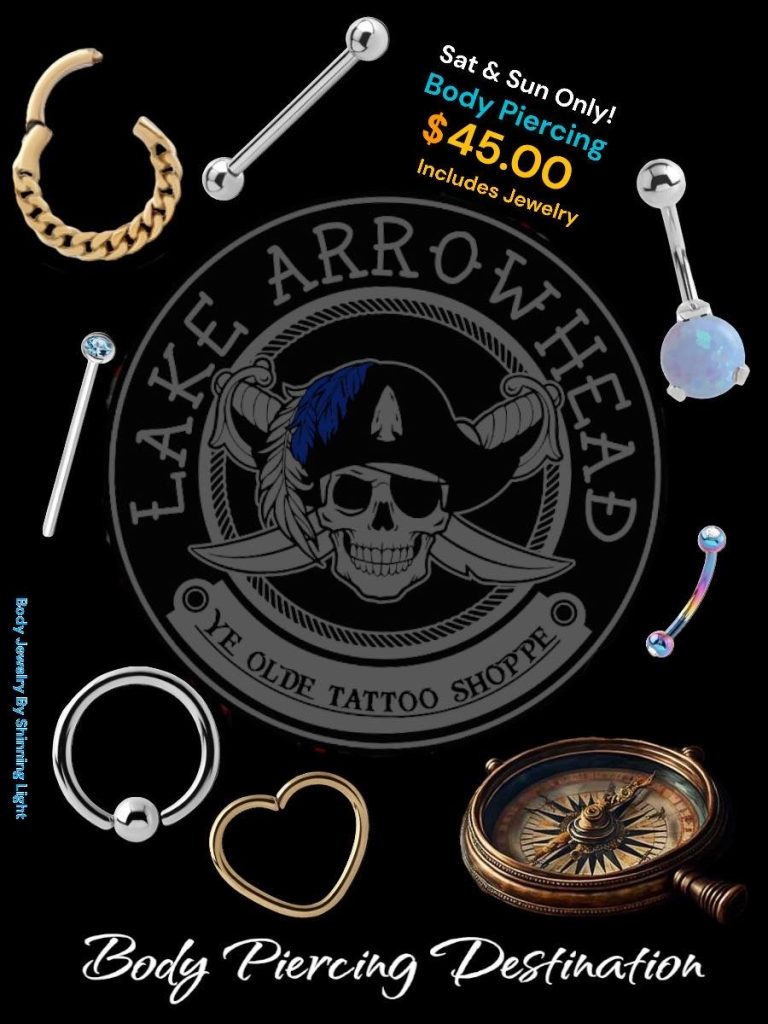 Now Piercing Saturdays & Sundays 

We will be having expert body piercers from Los Angeles Body Piercing inside Studio City Tattoo visit us on a regular basis
to provide expert body piercing to the residents of Lake Arrowhead and our visiting tattoo clients 
My name's Marv! I'm called Magic Marv by the kids(I do magic tricks) and the Pacific Island piercing legend (the Boulder), but don't take me for granite (hehe)
I'm one of the piercers here at SCT/ Los Angeles Body Piercing. In my free time, I enjoy jamming with friends. I play the drums, it's the only one with a chair. I also love cooking, because I get to eat when I'm done.
I used to work at an orange juice factory, but I got canned, actually, I was fired because I couldn't concentrate!
Seriously though, I've been piercing since '08 and still love what I do. Let me show you how much I love my job! I hope to pierce you soon.
" Lady Elisabeth" specializes in ear curation - designing multiple piercings on ears one at a time. She was  train & also works at Studio City Tattoo. She works at Lake Arrowhead on Mondays. Elizabeth loves what she does and it shows in her work.
Experience Body Piercing Done Right at Lake Arrowhead Tattoo
Nestled in the majestic San Bernardino Mountains awaits a crew of talented tattoo artists and piercers eager to turn your creative visions into personal works of art. Our team takes pride in their craftsmanship, working diligently to translate your unique ideas into body piercings that reflect your personality with skill and flair. With strict adherence to health and safety standards, including CAL O.S.H.A Bloodborne Pathogens certification and county licensing, you can trust our clean, professional tattoo & body piercing parlor to deliver an exceptional experience from start to finish.
Seeing the excitement and joy from our customers as they leave with their body piercings is one of the perks of being part of the Lake Arrowhead Tattoo team. We're passionate about delivering top-notch service so you walk away not just inked, but happy.
Ready to make your body piercing art dreams a reality? Browse our artists' portfolios and bios, then book your consultation. With a rotating cast of talented body piercers visiting from Studio City Tattoo, there's always an artist on hand ready to turn your ideas into awesome piercings you'll love for years to come.
Let Lake Arrowhead Tattoo & Body Piercing  provide you with body piercing done right!