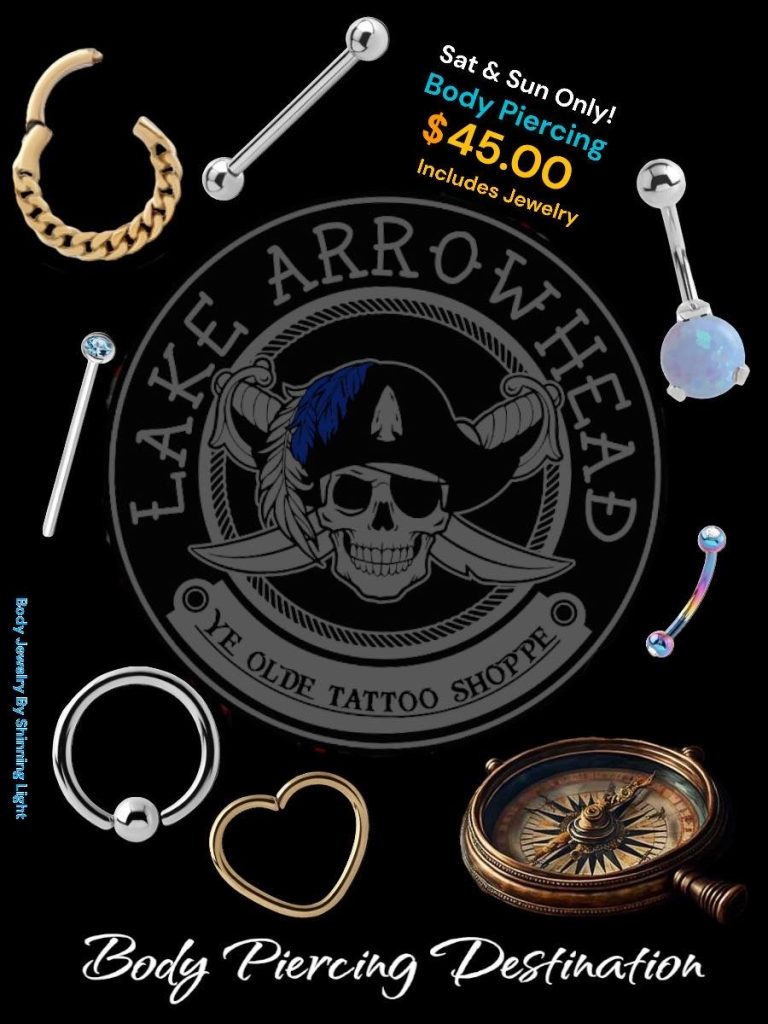 Now Piercing Saturdays & Sundays 

We will be having expert body piercers from Los Angeles Body Piercing inside Studio City Tattoo visit us on a regular basis
to provide expert body piercing to the residents of Lake Arrowhead and our visiting tattoo clients 
We will have expert body piercers from Studio City Tattoo & Body Piercing visit us on a regular basis. They will provide expert body piercing & jewelry recommendations to the residents of Lake Arrowhead.
At Lake Arrowhead Tattoo our crew of tattoo artists and piercers are skilled craftsmen. They take pride in translating whatever you have in your imagination into a tattoo or piercing that reflects your personality and sense of style. Our responsibility is to provide our customers with the very best tattooing and piercing experience possible. All crew are CAL O.S.H.A Bloodborne Pathogens certified and licensed by the San Bernardino County Health Dept.
People come into Lake Arrowhead Tattoo happy, and leave even happier. Seeing our customers walk away happy with their new tattoos is one of the perks of working at Lake Arrowhead Tattoo. We invite you to browse throughout the artist's portfolios and bios. We rotate tattoo artist up to the mountain throughout the months. All artists can also be booked weekly at Studio City Tattoo
Book an appointment today !
909-744-9099